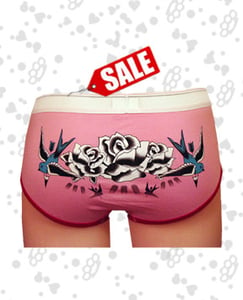 £

49.99 - On Sale
Unisex diamondbones boxers, for guys or girls!

As seen on Pete Wentz!
made from 100% cotton.

Available in baby pink/red or grey/baby blue.

size guide
S - 22-26"
M - 26-28"
L - 28-30"
XL - 30-34"
*dispatched within 24hours


All orders come with free stickers!

note; This design coprighted 2005. COPYRIGHT BREACH IS A SERIOUS OFFENSE. DIAMONDBONES/MY MURDER SCENE CLOTHING HAS THE RIGHTS TO EVERYTHING RELATING. DIAMONDBONES/MY MURDER SCENE CLOTHING ALSO HAS THE RIGHT TO ALL MEDIA & NONE DIGITAL MATERIAL, LOGOS, GRAPHICS, TEXT CONTENT.
ALL CONTENT IS UNDER COPYRIGHT PROTECTION.
PERMISSION IS NOT GRANTED TO USE ANYWHERE, NEITHER FOR EDUCATIONAL, PERSONAL OR COMMERSIAL USE. PLEASE DO NOT VIOLATE THESE TERMS. VIOLATION OF COPYRIGHT IS AGAINST THE LAW, AND YOU COULD FACE FINES, COURT ACTION OR POSSIBLE JAIL TIME FOR BREACH OF THIS COPYRIGHT.